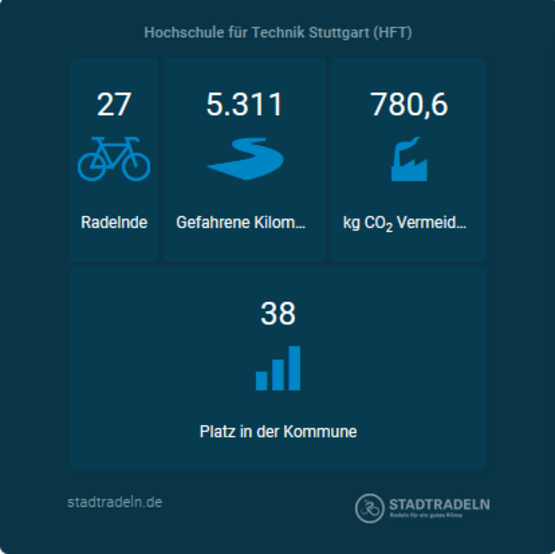 This year, for the first time, the Stuttgart University of Applied Sciences has set up a team to take part in the "STADTRADELN - Cycling for a Good Climate" campaign. The STADTRADELN competition is about pedalling for 21 days, collecting kilometres and thus promoting more cycling, climate protection and quality of life in a community. Everyday and leisure journeys are counted. The Stuttgart municipality has set the three-week STADTRADELN period this year for 20 June to 10 July. A total of 4,469 active cyclists and 243 teams registered for the entire municipality. 985,698 kilometres were cycled for the entire municipality, which corresponds to 145 tonnes of CO2 avoided if these journeys had been made by car.
The HFT team was initiated by the study programme Infrastructure Management together with the rector's office. All HFT members could participate, regardless of their position or faculty. Despite the pandemic and home office, 5,311 kilometres were cycled by professors, staff and students together, thus avoiding 781 kg of CO2. Out of a total of 31 registered team members, 27 actively logged kilometers.
In comparison, the University of Stuttgart with 43,242 cycled kilometres took 4th place in the community (207 cyclists), the University of Hohenheim with 17,786 cycled kilometres took 12th place (234 cyclists). Next year, the HFT Stuttgart will participate again and hopes to double the number of participants and kilometres cycled.