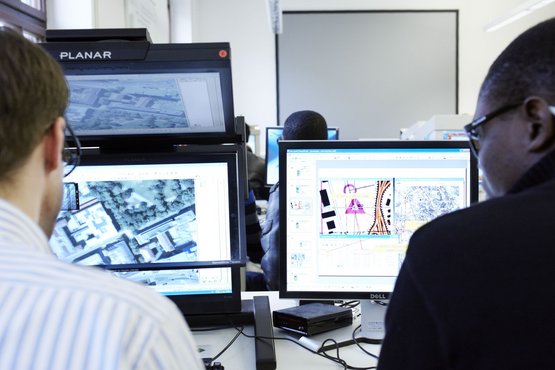 Hardware
In terms of computer equipment, a total of 22 stereo-capable PCs are available, all of which are equipped for photogrammetry and remote sensing tasks.
All workstations are equipped with active LCD stereo viewing and each with an additional at least 19" TFT screen. Each of these stations is equipped with Matlab, AutoCAD and MS Office packages.
For visualisation purposes, a stereo beamer CUBE 3D from Digital Image with a fixed screen (room 2/222) and a portable screen is available. It is used for lectures and exercises as well as for 3D visualisations and animations of various kinds. The observation is done passively with polarization glasses.
In addition, a large number of external USB drives with up to 1TByte storage capacity each are available in the laboratory. A Tablet PC is available for the instructor to supervise exercises. The laboratory has a whiteboard for exercises, meetings and lectures in combination with practical exercises.